Greetings from Seattle and Mt. Rainier!


Posted: Jul 5, 2011
Hi everybody! I'm finally traveling again and discovered the Experience Music Project while in Seattle. Wow! Everything you ever wanted to know about Jimi Hendrix and tons of relics from his career. I particularly enjoyed the handwritten lyrics and song ideas quickly scribbled onto letterheads from famous hotels all over the world. The tower of guitars is an amazing feat. Spent a day on Mt. Rainier as well. This was an unexpected treat. Took lots of photos of wildlife, hillside springs from melting glaciers and played in the snow. What fun--snow in July! Who knew? Such beautiful views of so many life forms on the mountain, all reminders of what's really important.
---
Once again, thank you to everyone who has kept in touch during trying times.


Posted: Sep 27, 2010
As mentioned earlier in my NEWS items, I survived an episode of spinal meningitis in October of 2008. Doctors indicated it would be 18 months before we would know the full extent of remaining neurological difficulties. But just 14 months later, in January 2010, I was again struck down by meningitis. In June, I underwent a "brain surgery" that will hopefully end this ordeal. Thanks again for so much support and encouragement from family, friends and fans. I am doing amazingly well and have started writing again for my next album. Bless all of you.
---
Congratulations Rio!


Posted: Oct 2, 2009
A quick note from us at Inglaterra Musica, extending our congratulations to Rio de Janeiro on their selection today for the Olympic Games in 2016. We know the games will be great and the Brazilian music the best ever. Congrats!
---
Thank you friends, family and fans


Posted: Aug 20, 2009
I just wanted to post a special "thank you" to all of my family, friends and fans who expressed words of support and kindness while I fought back and survived near-fatal meningitis last October 2008. Recovery has been slow but I am definitely on-the-mend and looking forward to getting back to my music. Thanks again for everyone's support. It has helped immensely.
---
In NEW YORK
Posted: July 1, 2008
eSynchro Nationals Meet - Working on a salsa number for the little nippers!
---
In ST. LOUIS, MO
Posted: June 21-23, 2008
Indie Musician Buzz Bootcamp ("Fett, I know where you live" . . .)

---
20th Century Guitar Magazine reviews CD


Posted: May 22, 2008


MUSIC LABEL SPOTLIGHT - INGLATERRA MUSICA
On her 2007 CD, "Tones of the Tropics", Texas guitarist Terri England puts together a set of guitar instrumentals that clearly reflect her fondness for Brazilian jazz and Latin rhythms. England's jazzy finger style guitar sound is backed up by her additional expertise on guitar synth, keyboards, bass, drums and more. Backed up by a range of her accomplished studio overdubbing, England's jazz guitar expertise crosses over from jazz to world beat and beyond. (June 2008 issue)
---
In HOLLYWOOD, CA
Posted: Apr 15, 2008

ASCAP EXPO 2008 - Wow! What a week! I just returned from L.A. where I attended the ASCAP I Create Music Expo 2008. The first night there I was a guest at the Pop Music Awards, making my way past the red carpet to avoid paparazzi waiting to get pictures of Nicole Richie. I had already been warned (thanks John--my driver). Anyway, after gatekeepers made sure I was on the list, I made my way inside the stunning Kodak Theatre where only a few weeks ago Hollywood hosted the Academy Awards. There I was, rubbing elbows with Quincy Jones, Lionel Richie, Marilyn Bergman, Fergie, Justin Timberlake, Steve Miller, Verdine White from Earth, Wind & Fire, Sara Bareilles and Toby Gad who just finished producing an album with Donna Summer. At the conclusion of the awards ceremony Steve Miller brought out his band and treated us to an impromptu concert featuring all of his greatest hits. I also met Jon Bon Jovi and Richie Sambora, Jackson Browne, indie artist Jill Sobule, Jeff Rona, creator of LiquidCinema libraries, and the amazing composer and arranger Johnny Mandel who is now 82 and still making beautiful music. His stories of working with Count Basie and Shirley Horn were priceless. At the Expo I took the opportunity to initiate a major upgrade to my studio with the help of Linc Kilpatrick from West L.A. Music, yes, Where the Pros Shop as their slogan goes. For me, this week proved to be a life-altering event. I am already working on my next album and once installation of my new studio is complete I will begin composing for film and TV projects as well. Wow, life is good!
---
"Tones of the Tropics" CD now available at WalMart
Posted: Apr 14, 2008
Songs from TONES OF THE TROPiCS are now available at the Wal-Mart download store.
---
Dance of the Fireflies reviewed at TAXI
Posted: Nov 2007
This piece is quite impressive from the standpoint of composition and arrangement. The guitars are well performed--nice going with both the traditional nylon string and electric parts. The instrumental palette is quite colorful and all the parts are well scored. This track could potentially be useful as a showcase of guitar mastery and composition.- Unknown reviewer at TAXI (paraphrased)
---
Review of "Tones of the Tropics" CD
Posted: Oct 2007
By Don Kimenker, Founder, earBuzz.com

Guitarist Terri England is shy. She begins her multi-instrumentalist album, "TONES OF THE TROPiCS", by laying off the guitar - the main instrument that leads every track of the album except the first, "Vera's Cruise". Instead, the guitar is heard far behind the Brazilian percussion in favor of the lead synthesized flute. Not that we're complaining—just noticing the unobtrusive nature of England's music and record. When the guitar makes its appearance it is with the melodic line in track 2, "Spring". The guitar is subtle, important, and understated, and the hollow tone of the nylon string guitar provides character to the apt guitar technique. There is an acceleration of guitar presence occurring, and it continues to build with the third track, "Setembro Sunrise". This time the instrumental has Latin guitar rhythm in the left channel while jazz guitar ala Howard Roberts populates the melody within its own frequency space. One of the most appealing aspects of England's music is not just that she performs all of it, but that the guitar tones and timbres run the gamut - nearly a lesson in what a tonal treat and mélange of guitars can be stirred into a record's ingredients. As the warm-up continues to grow into more aggressive pieces, track 4, "Moonlit Mood", continues in the vein with ambitious chordal repaginated creations in the break. It is here that we begin hearing England's level of fine technique. The composition is fairly straight-ahead, yet England takes liberties with rhythm and syncopation that make the track interesting. The guitar climax comes in the softer unobtrusive cut (track 7), "Just Before Sunset", as the shy heroine of the six-string comes out of the shell of obscurity and performs a guitar solo piece. The touch and beauty have been hinted at during the previous tracks, and now appears in full. The album is a lesson in the intentional pacing that will always be an art form in the order of song choice within an album. Indeed, it is the very difference between a musical journey and short abrupt trips. England's intent here is clearly on the journey, and she takes the listener on a relaxing enjoyable day of guitar and instrumental music that takes a few road directions from (Pat) Metheny in the process.

---
"TONES OF THE TROPiCS" in new stores!
Posted: Oct 30, 2007
Store update October 16, 2007: "TONES OF THE TROPiCS" will be available through Barnes & Noble retail outlets, Amazon.com, Borders, CD Baby and for your MP3 player at Apple iTunes, VH1.com, Sony Connect, Rhapsody, eMusic and AOL Music.com. Of course, you can always buy a TONES OF THE TROPiCS CD or download MP3's directly from me, here at my website. Thanks and enjoy!
---
Acoustic Fuel Interview from October 14, 2007
Posted: October 15, 2007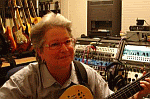 Hosts: DJ Mister Man (DJMM); Jennifer Washington (JW); Larry B. Scott (LBS); Renard Zo Williams (RZW)
Guests: Terri England, Brazilian Jazz Artist (TE); Melinda Rodriguez, Percussionist with Drum Fusion (MR)

LBS: Welcome to "Acoustic Fuel Live: Words and Music to Live By". This series that we do is all about creating better lives by any audio means necessary, and usually we like to bring in somebody who is in the field of what our topic is about for the day. Today our topic is about "Awakening Your Creativity".
JW: We have a great line up of guests this morning, we have Terri England who's a Brazilian Jazz artist who's going to be joining us a little later and we're also going to be talking to Melinda Rodriguez from Drum Fusion.
DJMM: Up next, were going to hear a song from Terri England, "Lil' Ray of Bossa"(track plays). And we're back, "Acoustic Fuel: Words and Music to Live By".
JW: For those of you who are just joining in with us, today we're talking about creativity and we have a whole bunch of creative folks on the line today. We're being joined by Brazilian Jazz artist Terri England. Terri are you there?
TE: Yes.
JW: Where are you calling from Terri?
TE: Corpus Christi, Texas. South Texas. Thanks so much for inviting me to be on the show.
LBS: How's the weather there?
TE: Oh its great, sunny and mild.
RZW: Well, again we were having a show, our show that's centered around the creative process and you being a jazz artist, I mean, jazz music in and of itself is America's classical music, you know what I mean, as far as that the technician-ship that's involved. Please, share with us your creative process and let the listeners know what is the basis and the type of music you create.
TE: The music I create is of course Brazilian Jazz. I like it because of the syncopation aspect of the rhythms and the Afro-Latin beats that have been adapted into the music. Usually when I write a song, what works for me, is that I will create a rhythm or a beat to begin with and based on that I kind of build on it. You know it's really kind of fun creating something from nothing. You start with a basic underlying layer, like a rhythm or beat, and on top of that you start adding middle parts. Usually the melody is the last thing I write and beyond that, with percussion I like to add in what I call "ear candy" little things here-and-there and then when its done I'll put it all together, listen to it a few days and at some point create a title for it.
RZW: The name comes last?
TE: Exactly. I have to listen to it to figure out what exactly it means to me and based on that then I'll do the title, but yes, its usually the rhythm first and then the melody.
RZW: So let me ask you, who are some of your mentors, or people who inspired you to create this type of music and what did their music speak to your soul?
TE: I was classically trained when I was a kid. I was trained on piano and cello and played in orchestras and then I started playing in bands. I played in a jazz band and one day someone gave me an album by Flora Purim, she's a Brazilian vocalist, and the music just moved me and I thought 'Oh this is incredible', this is just beautiful music so I started studying that style and listening to a lot of it and I mean it just really hit the nail-on-the head for me. It's what moves me as well. You know, there are some American people doing similar music like Lee Ritenour, a guitarist. I love his work, he's put out some Brazilian music albums, but mostly I listen to people who do the Brazilian music, Antonio Jobim comes to mind and Ivan Lins. A lot of the Brazilians, I just love this type of music.
RZW: Mr. B Scott do you have any questions for Terri England?
LBS: Yeah, it's kind of interesting, she explains the creative process hits folks differently. When did you know, because you said you started out as classical, what made you make the jump? I mean, I know you love the music now, but do you remember that day or that piece that struck you?
TE: Not really, everything is a cumulative experience; one thing builds on the other. What I enjoyed about the classical is that you do learn to read music, you learn theory, you learn how arrangements should be made, you learn about dynamics and all that type of thing and that of course is useful to me now, to know all of that stuff. But as far as the jazz, the Brazilian like I said, it was just that the music moved me and, you know when you're playing it live and people get up out of their seats and start dancing, you can tell that they feel it too. It's just—you know, words can't express how that makes the artist feel. It's just incredible.
RZW: It sounds like Terri and Melinda have a lot in common. Her being a . . . , you see what I'm saying, her with the drum fusion and you with the Brazilian Jazz. I think we have a collaboration in the making.
JW: Are you still there Melinda?
MR: I am here.
RZW: Melinda, do you have any questions for jazz artist Terri England today?
MR: I'm just enjoying hearing the story.
RZW: Isn't it beautiful, isn't it beautiful, the creative process?
LBS: There seems to be a million ways into it, the whole thing about it is that there doesn't seem to be one set way that you HAVE to travel. You should be able to get to it through bus, train, plane or walking.
RZW: Ms England, do you have any upcoming projects or is there any way people can get in contact and experience your music?
TE: I do have a website, it's www.terriengland.com. I have a lot of information on my website, a lot of links to different sites where I have my music as well. Basically what I'm doing now is I'm actually working on my next CD already. I have some songs in the works. I enjoy writing, arranging and recording.
RZW: So it never stops?
TE: Exactly.
LBS: It's just like a geyser, a creative geyser.
TE: Yes.
LBS: I mean that's what happens, you just shoot it out and then you go back in and you make some more, then you've got some more (laughter).
TE: Right.
RZW: Wow! So before we close it out I'd like to ask all three of you a question that each one of you guys can answer for the listeners. What I want to ask very simply is, I would like for you guys to give our listeners the most important thing TO YOU to do to allow themselves to open up to the creative process so that they may express themselves, or express their highest potential. So starting with Melinda, going to Terri and then finally with Larry B.
MR: I would say find your bliss. Find what tool opens you up, lights you up, gets you going. We all have one and allow that to let the creativity flow through it.
RZW: Find your specific voice if you will.
MR: Find your voice. For me it's the drum but everybody has a different way of doing that. We all have the tool that we access when its time to tap into that creativity and you need to find that and, there's a lot of resources available and drumming is one of them.
RZW: Gosh, and Terri, your advice?
TE: Oh yes, I agree completely. When you find your passion you'll know because the creativity will flow from that. We all do things every day that we HAVE to do, but when you find what your passion is and you pursue that, time disappears. There's no constriction of time and you'll know when you've found your passion because the time just falls away.
---
"TONES OF THE TROPiCS" available at digital stores!
Posted: Sep 1, 2007
Now you can get songs from TONES OF THE TROPiCS for your MP3 player at Apple iTunes, VH1.com, Sony Connect, Rhapsody, eMusic and AOL Music.com Enjoy!
---

Posted: Jun 10, 2007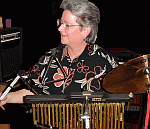 TONES OF THE TROPiCS is now available here at the "CD Store" page and CD Baby and Apple iTunes!
---
"TONES OF THE TROPiCS" available at iTunes & CD Baby!
Posted: May 11, 2007
Now you can get songs from TONES OF THE TROPiCS at Apple iTunes and the CD is available here at TERRIENGLAND.COM and at CD Baby. Go to the LINKS web page for quick access to these sites.
---
2007 CD "TONES OF THE TROPiCS" Released!
Posted: May 2, 2007
It's finally here! TONES OF THE TROPiCS was just released yesterday, May 1, 2007. It will be available for purchase here at this website and at CD Baby within the next few weeks.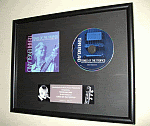 ---